Course Description
Why learn this course?
Hey did you watch the 'spiderman-far away from home' trailer? Superheroes have always fascinated kids from the comic era of the 70s and 80s. With the computer revolution and thanks to Moore's prediction, the Computer graphics(CG) and Visual effects (VFX) have brought these imaginations to visual treat. Getting to see the superhero effect in movies is fascinating, but how do they make it? How does the industry work? What is the difference between VFX, Animation, CG? Has the camera got to do something with it?
Kids on this 2 days summer camp here at Realworks studios, a studio based out of Coimbatore working in the movie Industry. Kids learn to shoot a video and make their own superhero effect. Which they can try using it in the short movies that they are excited to create. Well It isn't just about learning the tool, The camp involves learning the application of science and math in the process of making superhero effect
Camp Overview
Why should you choose this camp? How do we drive the curriculum? What would your kid learn from this camp?
Very dynamic and highly energetic educators. My son was eagerly looking forward for weekends because learning was fun and imaginative. I wish Mango Education to continue and expand their program offerings so that many kids can benefit from their captivating method of teaching.
Sathish V
Akshay's father, Coimbatore
Day 1
What is VFX?
Industry term clarification - VFX vs animation vs CG, etc.
Blue Mat Vs Green Mat - the necessity
The Math - lines, 3D colour space, python theorem (model)
Understanding camera and best practices
Shooting - the best practices demo
Placing an object in the real world - understanding problems - Managaram car scene example
Q and A
Congratulations to team Mango Education. Commendable thought and effort of merging science and maths with education in an interesting and thought-provoking way. Hats off to your mission on creating more scientists in this nation. Very brilliant ideas to make kids understand the application of science. Faculty members are awesome. Witnessed your commitment. We are happy to welcome this unique model of young creative entrepreneurs. All the best to the total team
Dr.Vidhya Rajan
Kharnika's mother, Coimbatore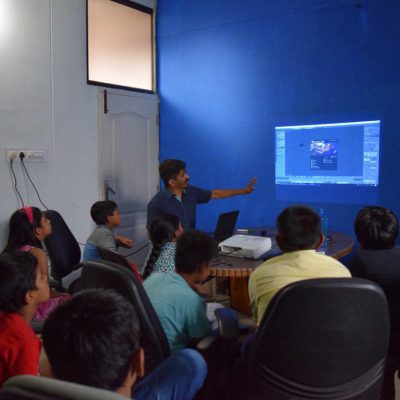 Day 2
Placing a real object in the virtual world.
Shooting using a green matte.
Compositing using Blender - track markers.
Believability aspect of a shot (kids will work on it using  Blender) as and when demonstrated by the educator.
Animation can explain whatever the mind of man can conceive
- Walt Disney