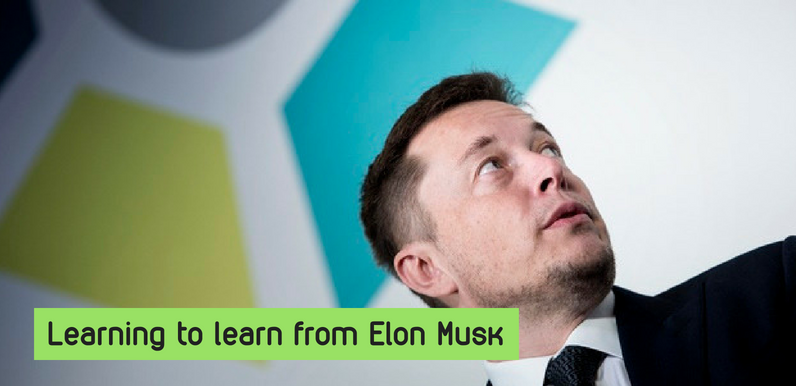 We live in an abstract world. Ever since the Industrial Revolution, changes are happening so fast that everything that we do or understand is becoming abstract. For example, do we know 'How we are able to communicate with people over mobile phone?','do we understand how rockets are launched?'. The follow-up question that detains the curiosity is 'do we really need to know?'
We live in an abstract world.
In the ever-growing abstract world, I think our foundational understanding is getting limited. Now and then we hear parents complaining about the lack of importance of History, Calculus or Chemistry in our day to day life. Could this also be an effect of this abstract understanding? This is definitely hampering problem-solving skills and ability to think creatively. It is making creativity a belief rather than a logical approach to problem-solving.
Elon Musk, the man behind SpaceX, Tesla Motors, Hyperloop (Idea), SolarCity (Investor) and The Boring company is considered a visionary on the lines and sometimes beyond thinkers like Edison, Henry Ford, Steve Jobs. Most of the Entrepreneurs and innovators consider him to be quite an inspiration on his ability to push the boundaries of problem-solving.
In Spite of the criticism of his recent experiment, his ability to break conventional wisdom is worth appreciating. The synchronous landing of the two falcon 9 boosters is a moment to cherish for every engineer. The approach he takes to solve complex challenges like climate change, Mars colonization is considered by some as a miracle and for some a thought through approach to solve problem.
Can kids learn from his problem-solving approach? Can parents and educators facilitate such reasoning? How can kids learn to learn from him?
To understand how he thinks, we need to understand his past, more importantly his childhood. Elon Musk, has a strong physics background. From his early day in South Africa, he was quite studious and in deep love with Science, Math, and Programming. To give an example when most of the kids his age were afraid of the dark, he reasoned it out scientifically. He said in one of the interview "When I was a little kid, I was really scared of the dark. But then I came to understand, dark just means the absence of photons in the visible wavelength—400 to 700 nanometers. Then I thought, well it's really silly to be afraid of a lack of photons. Then I wasn't afraid of the dark anymore after that."
He emphasizes on problem-solving by starting from fundamentals, he even quoted
'For increments, comparison is a great tactic to use. For breakthroughs, we have to start at the fundamental'
A strong background in physics, let him to reason from the first principle.
So what is first principle thinking?
First principle thinking is an approach where you keep asking questions and reach to the most fundamental truth.
Here is an example from Elon Musk's life. In 2002, Musk's quest to build a rocket to Mars started. He visited many aerospace manufacturers and even tried to buy an old Russian rocket. He realized that the cost of a rocket is too high, up to $65 million. Mainly because they are not reusable. He even tried to explain with an example. It is almost like using an Airbus A380 only once and disposing of it.
It is almost like using an Airbus A380 only once and disposing of it.
Elon Musk explains the first principle in his own style "Physics teaches you to reason from first principles rather than by analogy. So I said, okay, let's look at the first principles. What is a rocket made of? Aerospace-grade aluminum alloys, plus some titanium, copper, and carbon fiber. Then I asked, what is the value of those materials on the commodity market? It turned out that the materials cost of a rocket was around two percent of the typical price."
Instead of buying a finished rocket for tens of millions, Musk decided to create his own company, purchase the raw materials for cheap, and build the rockets himself. SpaceX was born. He further solved the reduction in cost by building reusable rockets.
Within a few years, SpaceX had cut the price of launching a rocket by nearly 10 times while still making a profit. This is how Elon Musk used first principles thinking to break the situation down to the fundamentals, rather than taking an analogy from existing aerospace industry, he ended up creating a more effective solution.
Do watch the TED talk by him, quite an amazing interview to know how he thinks. https://blog.ted.com/what-will-the-future-look-like-elon-musk-speaks-at-ted2017/
How can parents and educator facilitate first principle thinking?
Here is something that we tried. There is a myth that we need a lab to learn chemistry. Buying expensive glass materials, sourcing chemicals and safety equipment. We were looking at what are the alternatives and ended up thinking from the first principle. All we need to learn chemistry is to understand different elements, Acid, Base and how they work on different environmental condition. It is just like cooking, baking or cleaning. So, a Kitchen itself is an amazing place to learn chemistry.
We at Mango Education also discovered that everything necessary to learn chemistry is available in the nearest grocery store, vegetable store or pharmaceutical store. Also instead of using those expensive brittle glasses, we could use reusable transparent plastic boxes or cups. This helped us design the Baking Science course. We were able to expose Chemistry and Math while kids were having fun baking cookies.
To start off, I think parents and educators have to start thinking from the first principle. A sense of looking from scratch or fundamental truth in all our day to day work and make it a habit.
It could start with these questions.
What are we really trying to accomplish by this?
This could help us discover the objective of what we would like to teach. The job of the Educator is quite challenging. From classroom room management, designing curriculum, planning activities, getting all the kids hooked upon and giving feedback. With so much to do to get a kid inspired, there is a high possibility to get lost. The above question helps us to stick on to the objective
What is the real problem?
This helps us identify challenges. Once we reason out from bottoms-up,i.e with clearly defining the objective, we can start looking at how do we meet the objective and the challenges ahead. We can categorise each of the problems/challenges taking the analogy of our earth. Core, mantle and crust. All of them are important but the priorities is in this order.
What really matters to the kid?
This is the most critical one. We most often forget and get into the dogma of what we want rather than what really the child want. This will help us scrap all the bias towards the strategies, activities we have built and our false intuition. It may at times make us start again from scratch. The willingness to reason out again from scratch is the ultimate test for our true willingness to think what is best for the kid.
The above three questions are just a guideline. But Socrates approach of questioning can further break down to the fundamentals.
do we need to rethink education from the first principle?
Thinking about the first principle, made me wonder, do we need to rethink education from the first principle? More around what kids really want? Why is the current education the way it is? Do we want the child to get more marks and certificates to get a better job that may or may not exist in the future? Are we working hard to make kids safe in the uncertain future? Do we need to make him comfortable with a 'safe' environment? Or does he/she need to be taught to be happy and the ability to choose what he/she likes. These are some questions worth pondering.
Reference:
https://waitbutwhy.com/2015/05/elon-musk-the-worlds-raddest-man.html
http://www.game-changer.net/2014/06/26/first-principles-thinking-a-better-way-to-innovate/
https://blog.ted.com/what-will-the-future-look-like-elon-musk-speaks-at-ted2017/
https://medium.com/the-mission/elon-musks-3-step-first-principles-thinking-how-to-think-and-solve-difficult-problems-like-a-ba1e73a9f6c0
https://gainweightjournal.com/a-short-lesson-on-first-principles-thinking/